Join the MEHKO Movement!
Connecting Diners to Home Chefs!
What is INTERNET FOOD SERVICE INTERMEDIARY?
Internet food service intermediary (IFSI) is a LISCENCED entity that facilitates the sale of home cooked meals offered by microenterprise home kitchen operations (MEHKO) through a web and or mobile platform. The California Homemade Food Act (AB-626), makes it possible to run a cooking business right from the comfort of your kitchen. Our mission is to help you find a MEHKO in your area or to get started and apply for your own MEHKO permit and take part in the explosive growth of MEHKOs.
Get started with the application process and list your home restaurant and start getting paid!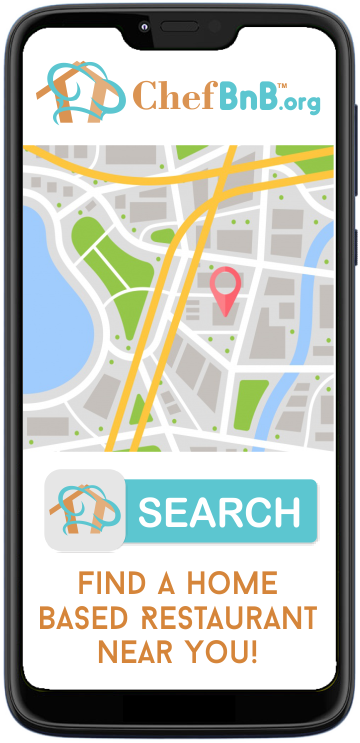 FIND A MEHKO OR LIST YOUR SERVICES at CHEFBNB.ORG...
Virtually Unlimited Potential
% of States with Approved MEHKOs
2%
% Counties in CA with Approved MHEKOs
1.7%
Potential Coverage of USA reached
1%
Potential Profits Per Year: $50,000
100%
Benefits of MEHKOs to Customers

Benefits of MEHKOs to Owners

find or be found at chefbnb.org!
Its not all MEHKOS at ChefBnB.org, Search or list your food service of any type!
MEHKO or home Restaurant
Find or list a mehko or home restaurant in your area.
Farmer's Market
Find or list a farmers market in your area.
Food Trucks
Find or list a food truck in your area.
professional & In home chefs
Find or list a home chef in your area.
catering servces & more
Find or list a catering business in your area.